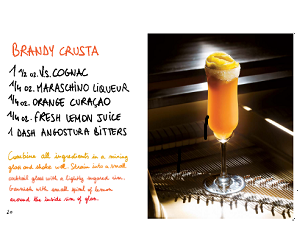 "If it's a cocktail party, I generally make five or six different things, and I try to choose recipes that feel like a meal: a chicken thing, a fish or shrimp thing, maybe two vegetable things, and I think it's fun to end the cocktail party with a sweet thing."

 Ina Garten (The Barefoot Contessa)
Innovative and Create Relevant Cocktail Lists-
We will work closely with you to create an original, contemporary craft cocktail list that is cutting-edge, unique and custom designed to appeal to your clientele (Sample menus are available upon request).
Creation of Signature Cocktail-
 A great cocktail can define an event or even an establishment. We take the time to get to know our clients needs. Let us concoct a completely original signature cocktail for your venue or special event. With great emphasis on detail, we will create a delicious cocktail that will be appropriate to the environment.
Recipe Manual with Photos and Instructions-
As part of our menu design and consultation services, we will create a recipe manual for your staff, which will help to ensure consistency in service.  Each recipe on your customized list will include the cocktail name, exact measurements, garnish, glassware, method of preparation and a full-page color photo.  This is provided electronically for future training materials and may be printed for staff as needed..
"The worlds best mixologists are emulating the great chefs. We seek out local fresh ingredients, balance the acids and sugars, reduce the ethynol to make great 'food friendly' cocktails that are aesthetically pleasing to the eye and palate"

-Brian Van Flandern
Customized Original Craft Cocktail Recipes-
Whether or you have a sophisticated, subdued clientele or a high-energy establishment, we can custom design original Craft Cocktails that are fresh, incredibly tasty and cost effective.
Menu Layout Consultation-
The number of cocktails and placement on the menu is critical for a successful cocktail program. The number of cocktails and placement on a menu are critical to a cocktail program. We recommend 8 – 10 cocktails on a menu maximum so as to not overwhelm your guests. Let us help you to design the layout and placement of your cocktail list for maximum eye appeal.