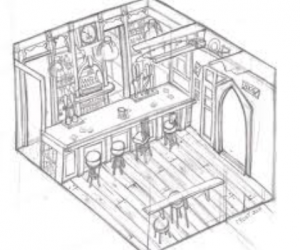 New Build Out Consulting
Looking to design an efficient, modern bar that takes advantage of the latest trends? Few architects understand the demands of the modern bar. We'll team with your designer to outfit your bar with contemporary, efficient equipment and make sure function meets form. Our practical suggestions for the placement of critical bar equipment, and provision of recommended vendors (as needed) will ensure your dream bar– not your worst nightmare.
Redesign Consulting
From refrigerators to sinks, waste bins to chillers, display lighting to seating, we have fresh innovative ideas that can give your bar the edge while staying on-trend and cost effective. We understand bar layout from both the consumer and bartender's perspective. Not only should the sight lines be visually appealing to your guests, the layouts must be efficient and easy for the bar staff to navigate to foster a positive experience for everyone.
Updated Spirits List and Visual Placement
Liquor placement on the bar is often a haphazard afterthought relegated to the bartenders. We can arrange your spirits selection to suit your establishment as well as be efficient for the bar staff. Whether you own a high volume establishment where speed counts or a relaxed atmosphere showcasing single malt whiskies, we will layout your inventory in a logical manner. Your labels will line up for maximum eye appeal and will be organized for swiftness.
A termite walks into a bar and says: "Excuse me, is the Bar Tender here?" -Anonymous
We are also happy to make suggestions for boutique spirits that will greatly enhance your spirits program. We can not only suggest replacement spirits that will modernize your program and generate consumer interest, but we can teach your bar staff proven techniques expend excess or unwanted product.
New Bar Equipment/Tools Manufacturers
The tools behind your bar can make as much of a statement about your establishment as the bartenders themselves. Let us find the right tools within your budget to make a dramatic visual impact upon your guests. From Boston Shakers to Hawthorne Strainers, Mixing Glasses to nutmeg grinders, we'll help you equip your bar with the quality products that are sure to meet your unique needs.