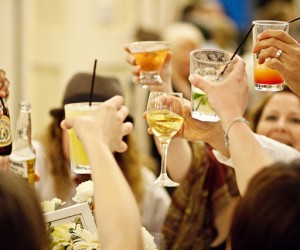 Weddings-
Let us create a special cocktail for your wedding day. We will interview the bride and groom then custom design a completely original cocktail that fits the couple and the mood of the reception. After a tasting and approval, we will provide a complete recipe with exact measurements and photo for your caterer's use to ensure your signature cocktail is as memorable as your event.  If requested, we can provide a professional mixologist to flawlessly execute cocktails on your special day.
Corporate Events/Special Occasions-
When planning a high profile event you want to make sure that there is an especially delicious cocktail selection?  From corporate retreats to the CEO's birthday we will make a special cocktail that is sure to be remembered for years to come. Our staff is used to working with high profile celebrities and have even created cocktails for many A-list personalities.  Let us know the needs of your particular event and we'll custom tailor a program that will be professional, sophisticated and delicious.
"I feel sorry for people who don't drink. When they wake up in the morning, that's as good as they're going to feel all day." –Frank Sinatra
Private Cocktail/Dinner Parties-
Be the envy of all your friends and dinner guests. Most hosts are so concerned about the food that they give little consideration to the cocktails at their own cocktail party. Why not retain the services of a celebrity mixologist? Brian will be happy to collaborate with your chef or caterer to pair cocktails with your menu. For a truly memorable evening, we can even give out signed copies of our stunning coffee table book VINTAGE COCKTAILS as a parting gift.